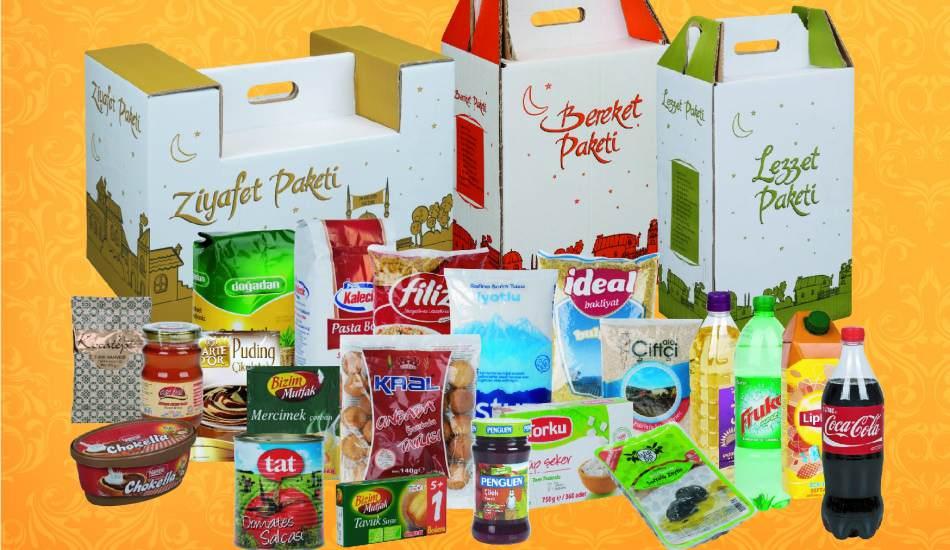 The month of Ramadan, which millions of Muslims have been waiting for, has arrived. While fasting for 30 days, thinking of people in need is an act commanded by our religion. If you want to prepare a Ramadan parcel with your own hands and you do not have any information about it, you can review our article. If you want to buy ready-made Ramadan parcels in the markets, you can see the prices in our article. Bim, A101…
Ramadan parcels took their place in the markets in 2021 as they are available every year. These days, Ramadan packages, which are prepared to meet the needs of many families, are already being researched in order to give gifts to those in need. Ramadan parcels , which are richly prepared to cover almost a month's kitchen expenses, took their place in markets such as BİM, A101, ŞOK, METRO, MİGROS, CARREFOURSA . If you want to help or if you have no idea about the Ramadan parcels bought to meet the needs of their homes, you are at the right address. In the Ramadan parcel, which contains both legumes and basic foods, there are foods such as oil, sugar, flour, breakfast olives, cheese and jam. Ramadan parcels, which can be added to tomato paste, salt, and optionally ready-packaged soups used while cooking, can also be sold ready-made in the markets in our country. Especially , Ramadan parcels of markets such as BİM, ŞOK, A101 are among the curious ones. So, what's inside the Ramadan boxes in markets such as A101, ŞOK, METRO, MİGROS ? A101, ŞOK, METRO,CARREFOURSA , MİGROS What are the prices of the Ramadan parcel? Details are in our article:
RAMADAN PACKAGE PRICES 2021
BİM RAMADAN COX 2021
BİM Market, one of the addresses of affordable and quality shopping, continues to serve with advantageous and high quality products. With the approach of the holy month of Ramadan, when fasting is fulfilled, the food parcel prepared by BİM Market for the month of Ramadan began to be curiously searched on search engines.
Bim Ramadan package and its contents are offered for sale as follows:
– 500 grams Pearl Olives
– 380 grams İlkgün Jam
– 500 grams Sayley Hazelnut Cream
– 830 grams of Yurdum Tomato Paste
– 2 packages of Hürrem Instant Soup
– 500 grams of Berk Filiz Tea
– 1 kg of Sugar Cube
– 2 Pieces of 500 grams of pasta
– 1 kg of Legendary Flour
– 750 grams of Salt
– 1 liter of Sunflower Oil
– 1 kg of Beans
– 2 kg of Flour
Total: 75.65 TL
CARREFOURSA Ramadan PACKAGE 2021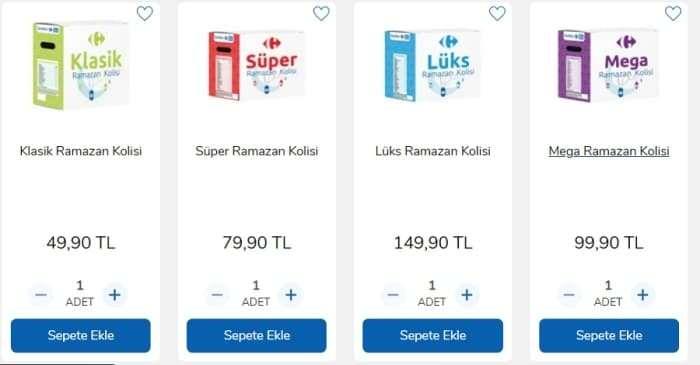 – Safya Sunflower Oil 1 lt
– Baharim Osmancık Rice 1 kg
– Tat Red Lentils 1 kg
– Duru Başbaşı Bulgur 1 kg
– Torku Cube Sugar 750 g
– Ofçay Binbirdem Blend Tea 500 g
– Sinangil Wheat Flour 1 kg
– Filiz Spiral Pasta 500 g
– Tat Tomato Paste 430 g
– Billur Iodized Table Salt 750 g
– Mizim Kitchen Lentil Soup 54 g
– Bizim Mutfak Chicken Bouillon 6′ li
– Ketone Gum Custard 150 g
– Pepsi Twist Cola 1 lt
– Lipton Cold Tea Peach 1 lt
Carrefour Super Ramadan Package: 79.90.
MİGROS RAMADAN PACKAGE 2021
Migros parcels were named as abundance, taste and feast. The prices of the boxes vary between 44.90 TL and 109.90 TL.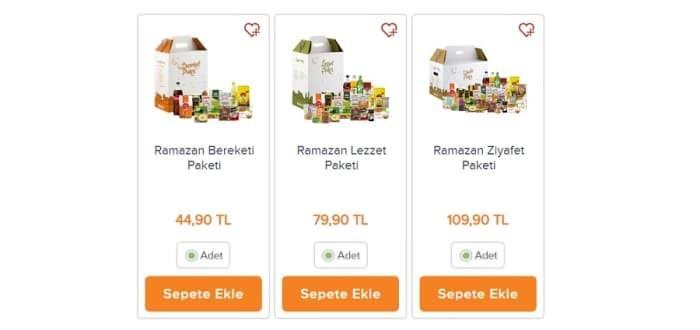 – Highland Rice with Rice 1 Kg
– Torku Bulgur for Rice 1 Kg
– Torku Sunflower Oil 1 L
– Veronelli Spiral Pasta 500 G
– Tukaş Tomato Paste 830 G
– Söke Flour 1 Kg
– Doğuş Rize Tea 500 G
– Torku Cube Sugar 750 G
– Knorr Noodle Chicken Soup 51 G
– Knorr Chicken Bouillon 60 Gr
– Billur Salt Iodized Table Salt 750 G
– Coca-Cola Sugar Free 1 L
– Bizim Mutfak Cocoa Pudding 100 G
Migros Classic Ramadan Package 44.90 TL' is
METRO RAMADAN PACK 2021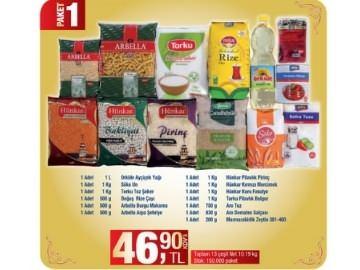 Metro Market has prepared 4 parcels for 2021 Ramadan Month.
– ARO Sunflower Oil 1L
– Oba Flour 1 kg
– Torku Granulated Sugar 1 kg
– Oba Spiral Pasta 500 g
– Oba Barley Noodle 500 g
– Cem Sele Olives (351 – 380) 200 g
– Aro Red Lentils 1 kg
– Aro Chickpeas 1 kg
– Aro Rice for Rice 1 kg
– Torku Bulgur for Rice 1 kg
– Aro Iodized Salt 750 g
– Ofçay Pocket Tea 500 g
– Burcu Tomato Paste 830 g
Metro Classic Ramadan Package is 63.90 TL.
SHOCK RAMADAN PACKAGE 2021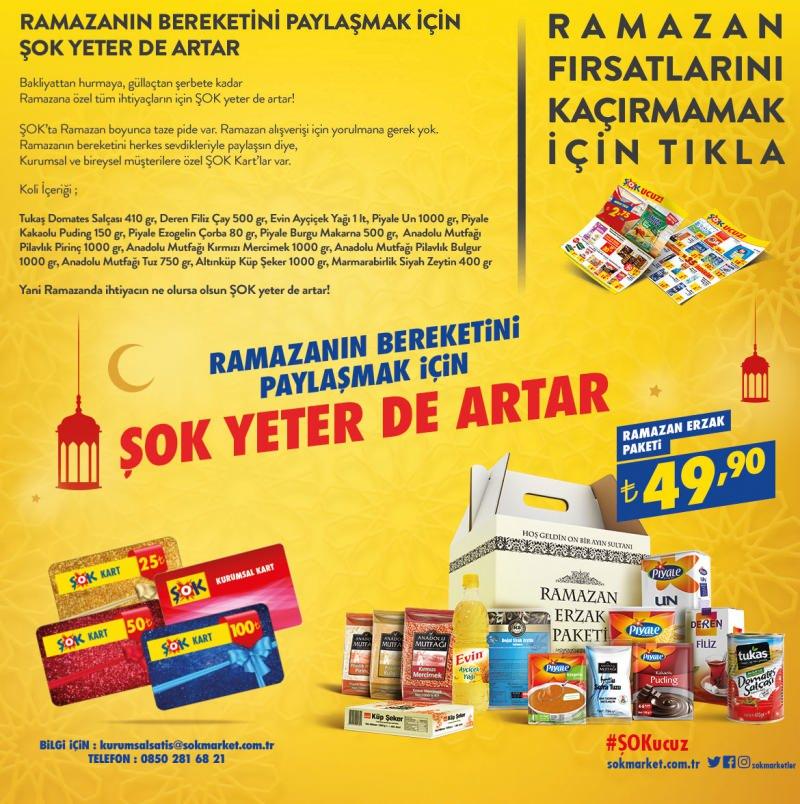 – 1 kg Rice Bowl Rice
– 1 kg of Bulgur
– 1 kg of Red Lentils
– 1 liter of Sunflower Oil
– 1 pack of Cube Sugar
– Black Olives
– Instant Soup
– Table Salt
– Noodles
– Pudding
– Flour
– Tea
– Tomato Paste
Total: 49.90 TL