We have a delicious soup recipe for summer and winter soup lovers. We share with you the recipe of muradiye soup, which is combined with delicious chicken meat, barley vermicelli and vegetables with plenty of vitamins. If you want to try a different flavor as a starter tonight, you can easily cook Muradiye soup. The recipe for Muradiye soup, which eats plates and makes children love vegetables, is in our article…
Muradiye soup, which is a soup with vegetables, chicken and seasoning, received from the Ottoman Sultan Murad II, is very rich in vitamins. If it is a soup that you have never cooked before or that you do not know the taste of, let us introduce you to what is Muradiye soup and how to make it. You should definitely try Muradiye soup. Muradiye soup, which nourishes and heals while warming your heart, is a gift from our city of Bursa. All your guests in your house will love this delicious and nutritious soup, which belongs to the Bursa region, with a lot of yogurt, plenty of chicken juicy, warming you up and filling you at the same time.
MURADIYE SOUP RECIPE:
INGREDIENTS
3 tablespoons oil
1 chicken breast
1 zucchini
1 carrot
1 liter of water
Half a tea glass of barley vermicelli
1 teaspoon of salt
1 teaspoon of black pepper
For its finishing;
1 glass of yogurt
1 tablespoon of flour
Half a glass of water
For the Top;
2 tablespoons butter
1 tablespoon mint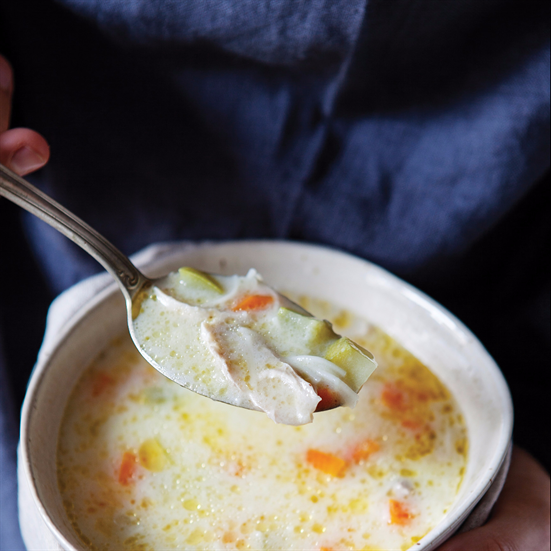 HOW TO
Take the oil in a deep saucepan and chop the chicken into cubes and mix well.
After sautéing a little, add the zucchini and carrots and continue sautéing for another 5 minutes.
Then add water, salt and pepper to the pot with the barley noodles and cook until the vegetables and barley vermicelli are tender.
You can prepare the seasoning for the cooked soup. In a separate bowl, mix flour, yogurt and half a glass of water.
Take a ladle of water from the soup boiling in the pot and add it little by little to the mixture in the bowl so that it does not cut when the yogurt is hot.
Slowly add the seasoning in the bowl while stirring the soup. After boiling over medium heat, cook on low heat for 5 minutes and turn off the stove.
You can add mint butter to the soup and serve hot.
Bon appetit..