When it comes to healthy snacks, like many people, you may first think of tasteless, appetizing dessert recipes. But everyone will love our recipe today. By making use of natural and delicious foods such as grapes, it is possible to prepare cookies with a taste that everyone can enjoy. How to make the easiest raisin cookies? The recipe for raisin cookies is in our article.
If you want a cookie-style dessert and you are on a diet, if you don't have time or don't want to deal with it, everything can get bigger in your eyes. However, with the healthy and practical cookie recipe, which is very easy to make, you can easily solve your sweet crisis and continue to maintain your form at the same time. The crunchy, raisin and walnut cookies we eat in patisseries will accompany your afternoon tea.
LAMB GRAPE COOKIE RECIPE:
INGREDIENTS
1, 5 glasses of oatmeal
Half a glass of milk
Half a glass of raisins
1 tablespoon of butter
2 tea glasses of whole wheat flour
1 lemon zest
1 packet of vanilla
1 pack of baking powder
1 egg
2 teaspoons of liquid sweetener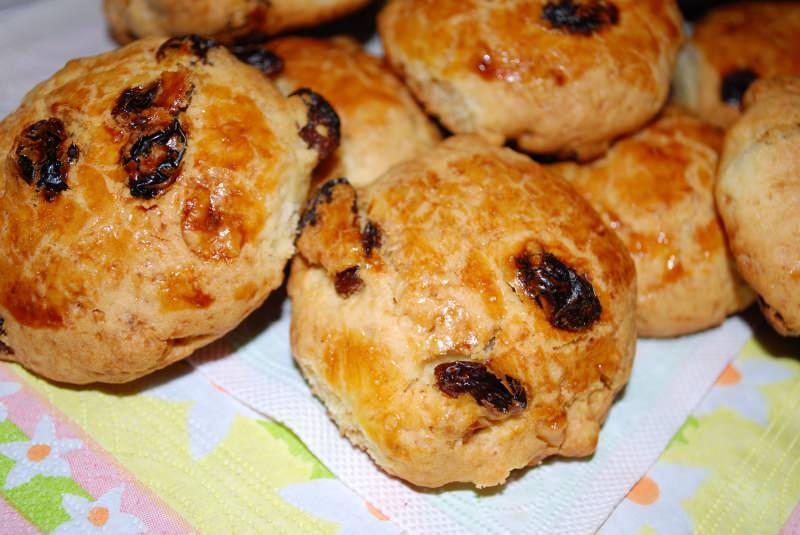 HOW TO
To make oatmeal cookies with raisins, first we put the oatmeal in a mixing bowl, add light milk on top (you can also make it from skimmed milk if you wish.)
Then add eggs, butter, grapes, lemon peel, Add the baking powder, vanilla and liquid sweetener. Only flour remains.
Mix the ingredients in the mixing bowl and then add the flour in a controlled manner.
Add the flour to get a slightly hard consistency.
Arrange the dough by giving shapes on the greaseproof paper that we previously laid on the tray.
Since it contains baking powder, you should put the cookies at intervals so that they do not stick to each other.
It takes about 20-25 minutes in our preheated oven at 180 degrees. After baking, our cookies are ready.
Bon appetit…