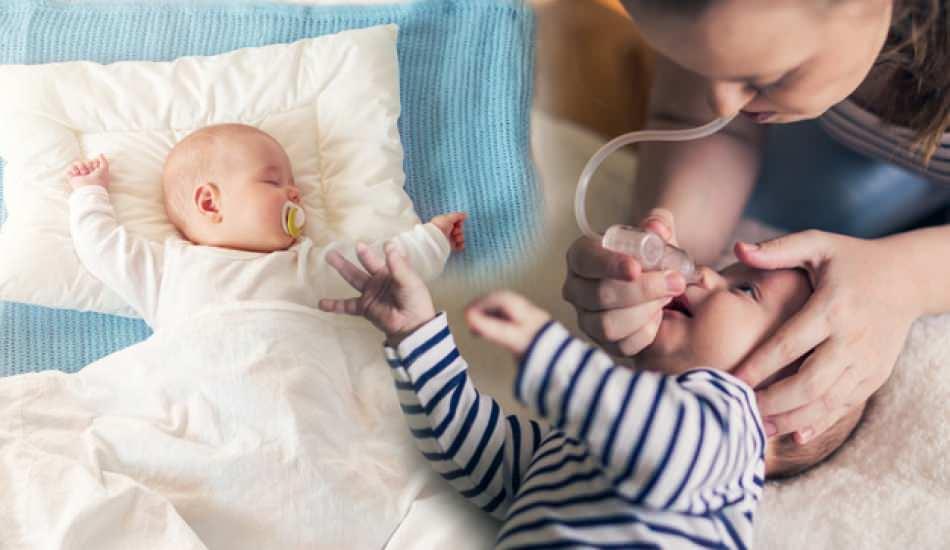 Nasal congestion, which may develop due to some reasons, may cause discomfort in babies such as inability to sleep or restlessness. In order to prevent such situations, a correct nasal cleaning method should be applied. So how do you clean babies' noses without hurting them? What causes nasal congestion in babies? How to use nasal aspirator in babies? Steps for cleaning babies' noses without hurting them:
Babies, who are much more sensitive and delicate than adults, can cause problems if they are not done correctly in case of nasal congestion. Nasal congestion, especially at bedtime, brings along the inability to breathe comfortably and properly in babies. Since babies cannot clean their noses on their own, you have to do the nasal cleaning yourself. If your baby does not have any cold or other discomfort, you do not need to clean the nose. However, if your baby makes a noise from his nose while breathing, and he uses his mouth instead of his nose while breathing, then you need to clean your baby's nose in more detail. You can read the details of the news to clear the mucus that causes obstruction of the air channels in the nose.
CAN BABIES CLEAN THEIR NOSE BY BLOWING?
Airway muscles must be controlled for the blowing situation that has not yet developed in infancy. Therefore, the act of blowing your nose in the newborn period is only reflexive. Blowout coordination is acquired at the earliest age of 2, usually between the ages of 2.5-3.
HOW TO CLEAN NOSE IN BABIES?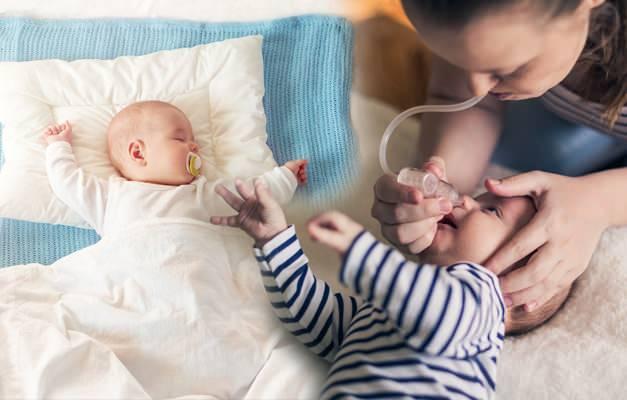 Using nasal aspirators to clean your baby's nose will make your job much easier. If you do not have a nasal aspirator, the best time for cleaning is after a bath. Because after taking a bath, the mucus residues in the nose soften and can be expelled more easily. After taking a bath, the dirt can be removed with soft napkins, ear buds or cheesecloth.
If nasal congestion continues despite all these cleaning interventions, you can use nasal drops produced for babies. Your baby will start to breathe more easily thanks to the nasal drops with natural ingredients called physiological saline .
On the other hand, you should take care to hygienically clean the nasal aspirators you use to open your baby's nose after each nasal cleaning.
HOW TO USE NOSE ASPIRATOR FOR BABIES?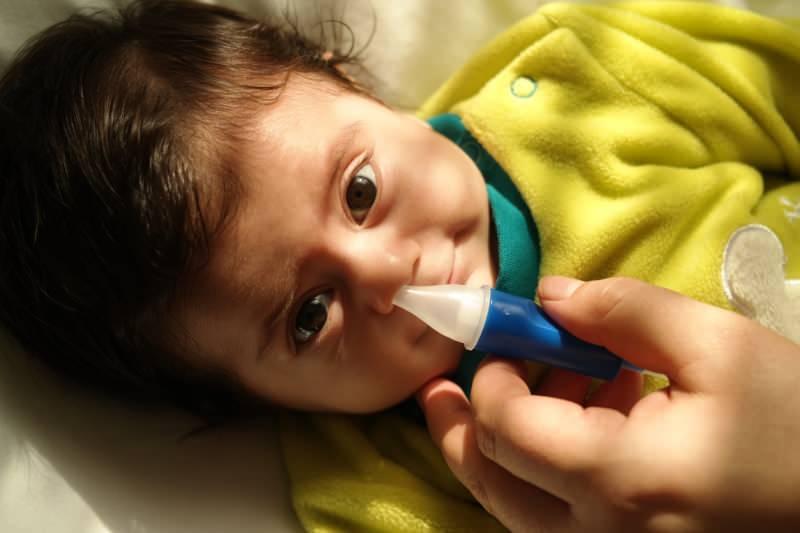 There are 2 types of aspirators: pump-shaped and breath-operated. One end of those who work with breathing is placed in the baby's nose and the other in the mouth of the person who will clean, and the baby's nasal secretions are drawn by breathing. This process is more effective than pump-like ones. Both methods should not be done frequently to avoid irritating the baby's nose.
When serum physiology does not work, hypertonic solutions with high salt content can be used. High pressure nasal sprays are not recommended for infants, even for nasal cleaning in infants.
CAUSES OF NOSE OBSTRUCTION IN BABIES:
Seasonal upper respiratory tract infections such as cold, flu and sinusitis,
Allergic disorders,
Nasal meat,
Anatomical disorders of the nose,
Dry air,
Blood accumulation in the nose,
Foreign body entry into the nose,
Although rare, tumors, cysts in infants causes nasal congestion .
NATURAL SOLUTIONS FOR BABIES WITH HIT BREATHING!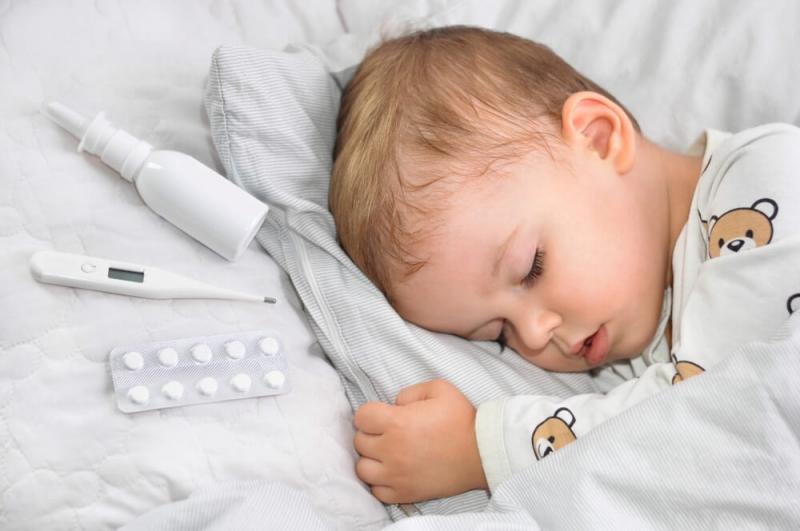 Breathlessness in infants is a condition that worries parents and causes them to be under constant observation. is an important problem. In such cases, parents can apply the following methods at home to facilitate the breathing of babies with shortness of breath…
-CREATE YOUR OWN STEAM ROOM
The clogged mucus will thin out and flow through the steam. The blockage will open easily. Keeping the cabinet door closed, turn on the hot water and wait for a while. When the cabin is full of steam, take your baby and sit in the steamy area for about 10 minutes.
-BAL
One of the effective methods for babies who have difficulty breathing is honey. Mix 1 teaspoon of freshly squeezed lemon juice with 2 teaspoons of honey and give it to your child at certain times. Parents who do not want to use this method can relieve symptoms with warm honey milk.
ATTENTION!
Honey consumption can pose serious dangers for babies under 1 year old.
-GINGER
For babies over 1 year old, mix equal amounts of ginger juice, pomegranate juice and honey, and feed 1 tablespoon 3 times a day.
-SOUP TO CHICKEN WATER
Chicken soup made at home is a great way to cure respiratory tract infections. Chicken soup prepared with organic chicken and vegetables clears congestion and accelerates healing.